Is Alzheimer's Disease a Type 3 Diabetes? A Critical Appraisal
1
By
CrossFit
January 23, 2020
This 2017 review summarizes multiple mechanisms by which insulin resistance and metabolic dysfunction could drive development and/or progression of Alzheimer's disease.
Current evidence suggests hyperinsulinemia, and/or insulin resistance specifically, is most strongly linked to increased risk of Alzheimer's. The link between obesity and Alzheimer's disease is more tenuous, with some studies showing no increased risk of cognitive impairment due to obesity. Conversely, Alzheimer's patients show higher levels of fasting insulin than controls, and individuals with diabetes and/or metabolic syndrome show consistently elevated Alzheimer's risk (2).
Insulin is known to play a role in brain function, with insulin receptors expressed throughout the brain and insulin activity greatest in areas associated with cognition, sensation, and memory formation (3). Insulin regulates the expression of neurotransmitter receptors and therefore neuroplasticity and synapse function (4).
Insulin levels in the brain, however, do not correlate with insulin levels in the rest of the body. Insulin must be actively transported across the blood-brain barrier (5), and this barrier can become insulin resistant. Chronic hyperinsulinemia can thus lead to simultaneously high levels of insulin in the periphery and low levels in the brain and cerebrospinal fluid, a pattern frequently seen in patients with Alzheimer's (6).
Alzheimer's frequently has been linked to accumulation of amyloid beta (AB) proteins, with patients exhibiting elevated levels of AB in the brain and cerebrospinal fluid (7). Insulin-degrading enzyme (IDE) plays a major role in breaking down AB oligomers (i.e., the precursor to harmful amyloid plaques), and the expression of IDE is correlated with the level of insulin activity in the brain (7). As a result, decreased insulin activity, via its effect on IDE, contributes to AB accumulation. As AB accumulates, it competes with insulin for access to insulin receptors; the result is a vicious cycle in which decreased insulin activity leads to AB accumulation, which leads to a further decrease in insulin activity (8).
Multiple rodent studies have found that inducing insulin resistance or suppressing insulin activity in the brains of rats and mice leads to cognitive impairment resembling Alzheimer's (9). These observations, which consistently point to the role of insulin resistance in the genesis and/or progression of Alzheimer's, have led some to call Alzheimer's "Type 3 diabetes" (10).
Cerebral hypometabolism — that is, decreased energy production in the brain specifically due to reduced glucose metabolism — is also linked to metabolic dysfunction and Alzheimer's disease. Glucose uptake in the brain is insulin stimulated, so impairments in insulin signaling lead to decreased glucose uptake and metabolism alongside their direct effects on cognition (11). Defective glucose metabolism, especially within the hippocampus and other areas associated with memory formation and cognition, is one of the first signs of Alzheimer's, appearing in high-risk patients 20-30 years prior to other symptoms (12). As AD progresses, the degree of cerebral glucose hypometabolism correlates with the degree of cognitive impairment observed (13). Inflammation and oxidation, themselves consequences of metabolic syndrome systemically and decreased energy and insulin availability locally, have also been linked to amyloid accumulation and other symptoms of Alzheimer's (14). In particular, some research has suggested defects in mitochondrial structure, which simultaneously increase the production of reactive oxygen species and decrease their clearance, may play a role in Alzheimer's progression (15).
Overall, the hypothesis that Alzheimer's is a metabolic disease remains preliminary and supported by limited evidence in humans beyond epidemiological correlations. The evidence and mechanisms that have been proposed, however, clearly indicate how metabolic defects — including insulin resistance, inflammation, oxidation, and impairments to metabolism in the brain — could explain both the genesis and development of Alzheimer's disease. The multiple mechanisms by which insulin resistance can affect Alzheimer's progression are summarized in the figure below.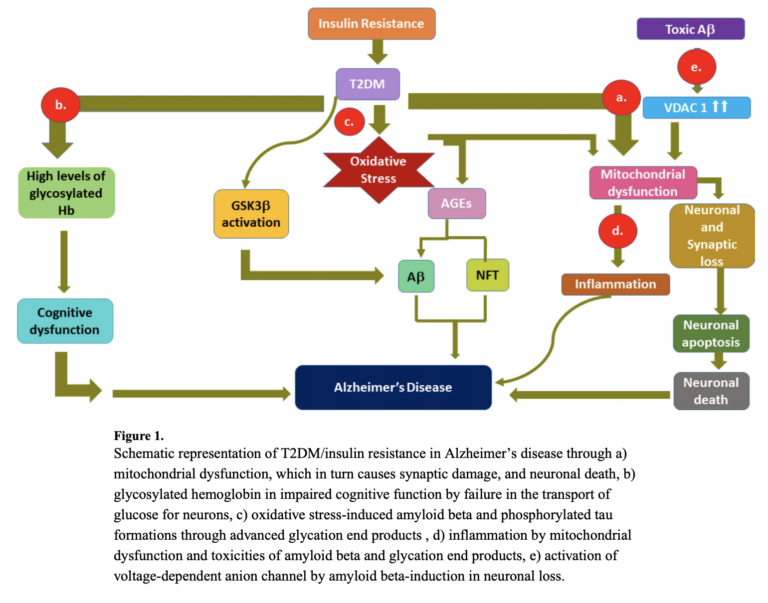 Takeaway: Accumulating evidence suggests diabetes and other forms of metabolic dysfunction exacerbate and may even cause Alzheimer's disease and cognitive impairment.